Dusit Thani Sri Lanka
Beverly Hills Launch
Thousands gathered at Paseo Colorado in Pasadena, Ca. for the annual Sri Lanka Day celebration organized by the Sri Lanka Foundation. Above are Founder Dr Walter Jayasinghe and his wife Aeshea with the Mayor of Pasadena Terry Tornek and his wife Maria.
President of Sri Lanka Foundation Dishan Jayasinghe and wife Anarkali with Hollywood Film Producer Antonio Gellini and Jayantha Somaratna.
Thusitha de Silva was one of the many Nilames, here with Miss Sri Lanka Ruwani Horanage who gave a very interesting dance with an "attitude" on center stage. The caprisoned elephant can be seen in the background.  The Perehera is very popular with the crowds that attend. Thanks go to the Sri Lanka Foundation for the time and effort spent to make this an event that all Sri Lankans in California and the United States can be proud of.
Celebrating Fourth of July in San Marino, Ca.
Janaki and Hema Ratnayake of Azusa, Ca. had a great time with other Sri Lankan American friends at a 4th of July celebration hosted by Bob and Kat Kenz. From left. Ash, Emma, Jean-Louis, Gina, Belle, Samantha, Gracie, Janaki, Hema, Shon, Aliki, Ashley, Bob and Kat. They also took part in the San Marino 4th of July Parade and fireworks at the Rose Bowl in Pasadena, Ca.
U.S. Ambassador to Sri Lanka Says
IMF Will Loan US$1.5 Billion
At the 177th Annual General Meeting of the Ceylon Chamber of Commerce in Colombo, 
U. S. Ambassador to Sri Lanka Atul Keshap said the International Monetary Fund (IMF) decision to loan US$ 1.5 billion to the Sri Lankan government will be a meaningful opportunity to undertake needed fiscal and economic reforms. "US relations with Sri Lanka are at an all time high and we will remain steadfast in our support of efforts to rebuild the economy and advance good governance. This year the US government's assistance is approximately US$ 40 Million to Sri Lanka and we have requested similar amounts from the Congress for the coming years," the Ambassador said.
Thilinie de Silva Weds Steven Messinger
Thilinie de Silva, daughter of Ranjanie and Malraj de Silva of Los Angeles, married Steven Messinger at the fabulous Fairmont Grand Del Mar Resort in San Diego, Ca.
Some of the ladies at the wedding were Shanthi Jasentuliyana, Janaki Wickremaratna, Manil Gunasekera, Renuka Jinadasa among others.
Seen having a great time were Sanjiv Gunasekera, Malraj de Silva, Upul Dharmadasa, Raja Edirisuriya, Thange, Gotabaya Rajapaksa and Munir Akbar.
Taprobane Community Center In Los Angeles
These People Will Make it Happen
The Taprobane Community Center is being discussed. The Sri Lankan expatriate community have been notified about the plans to raise the additional funds to make this a success. Above are the  movers and shakers (among others not in picture) who will make this dream a reality. l/r Dr Walter Jayasinghe, Shiran Salgado, Raja Edirisuriya, Dushantha Kurera, Ananda Niyerapola, Priyalal Kurera, Upul Dharmadasa, Faisal Buharie, Keith Ranga and Samantha Kurera.
Fashionmarket's Designer Saree Collection
According to Danu
Sumanadisi's Maalu Paan is the Best
Danu of WTF took a ride around Colombo to find a decent Maalu Paan (Fish Bun). It's a signature meal for us all, and finding the best one is always a challenge. He tasted and tested 4 bakers, Sumanadisi Bakers (Rs.40),  Royal Bakery (Rs.40), Sen-saal (Rs.50) and Perera and Sons (Rs.45). "And the WINNER is Sumanadisi Bakers (Rs.40), which is the best and I love the flavor. 
I met Ranga who was enjoying breakfast there, and he said that this was his favorite place in Wellawatte."
Rating – ***** (Photo Danu with Ranga)
Tea Party in Diamond Bar, Ca. For Good Shepherd Convent Alumni Association
Good Shepherd Convent Alumni Association of California met at Vinitha Seresinhe's (President) residence in Diamond Bar, Ca. on June 26th  for a Tea Party. Some of the Commitee Members who attended were Marie de Rosairo (Vice President), Chrisanthie Wickremesinghe (Treasurer), Rukshilla Perera (Social Secretary). June Bultjens, Swarna Ito, Chitra Ekanayake, Thusitha Makandura, Sandra Seneviratne, Manel McMillan, Jenny Gerreyn (Sri Lanka) Tina Crothers (Nashville Tennesee), Cecilia (Vancouver, Canada).
You're Our World – SriLankan Airlines
Los Angeles Consul General's Reception For Chitral and Vyomi De Mel of Boston Lanka
Consul General Swarna Guneratne had a dinner reception in honor of Chitral and Vyomi de Mel of Boston Lanka, at her residence in Pasadena, Ca. Seated are Aeshea Jayasinghe, Consul General, Senani Abegoonesekera, Raja Edirisuriya. Also in picture are Faisal Buharie, Achala Weerasinghe, Raju and Renuka Rasiah, Upul Dharmadasa, Keith Ranga and Priyalal Kurera. Dr Walter Jayasinghe, Chairman of the Sri Lanka Foundation was being interviewed by Chitral and Vyomi de Mel (in another room) for an edition of Boston Lanka to be aired shortly.
Whiz Kid Grows Up – Eugenie de Silva
Eugenie de Silva, born in  Manchester, England, daughter of Sri Lankan born Physics and Chemistry Professor Eugene de Silva, moved to the US when she was only five years with her father. Age 14: World's youngest to graduate with a Bachelor's degree in Intelligence Analysis with a 4.0 GPA, Age 15: World's youngest to earn a Master's degree in Intelligence Studies with a 4.0 GPA, Age 16: Harvard's youngest graduate in any field especially with Master's, Age 15: World's youngest to read for a Ph.D. in Politics and youngest to read for a Ph.D from a university in UK, Named one of the Top 30 Thinkers Under 30 by the Pacific Standard Magazine, Alumni Education Award – American Military University, 2015. Youngest Luce Leader 2015 – James Jay Dudley Luce Foundation 
Jayam's Choice 
Celine Dion's My Heart Will Go On
Shana Dandeniya 
Opens Cafe Kumbuk in Colombo
Despite having lived abroad for most of her life, Shana Dandeniya has always felt very much at home in Sri Lanka. "I was born in Sydney, Australia and when I was three years old my parents relocated to the UK," she explained, adding that she "made a great deal of friends coming back every year on holiday and so when I moved back it felt like coming home." Shana completed her education in Photography and Creative Advertising, Shana opened Café Kumbuk in Colombo, which has been serving up healthy food made using locally sourced – and sometimes organic – produce.
Sri Lankan Book 'The Adventure of Arrack' Wins 'Best in the World' Award
"The Adventure of Arrack", written by Michelle Gunawardana, became the first Sri Lankan book to receive a prestigious Gourmand Award, when it won first place in the spirits category at the Gourmand Awards held in Yantai, China in May, 2016. The Gourmand World Cookbook Awards were founded in 1995, and each year honors the best food and drink books as well as food television. These awards are considered the highest international accolade for books and television in this sector.
Royalist Dr Indrajit Coomaraswamy 
is New Central Bank Governor
President Sirisena has appointed Dr Indrajit Coomaraswamy as the new Governor of the Central Bank of Sri Lanka. Dr Coomaraswamy received his primary and secondary education at Royal College in Colombo and at Harrow School in England. He obtained his undergraduate degree at Cambridge and his Doctorate at the University of Sussex. Joining the Central Bank of Sri Lanka in 1973, he served in the Economic Research, Statistics and Bank Supervision divisions as a staff officer. He was attached to the Ministry of Finance and Planning from 1981 to 1989
Cotton Collection Celebrates 
25 Years in Fashion
Cotton Collection celebrated 25 years of being in the fashion market and setting trends last week. A cocktail reception was hosted by Cotton Collection Managing Director Niloufer Esufally Anverally at the Flagship Store for friends. Above are the Anverally family at the reception.
A Swimming Champion Emerges From Foundation of Goodness
Yasindu Kavishani, who trains at the Foundation of Goodness (FoG) Sports Academy's Bryan Adams Swimming Pool Complex became the first swimmer from the Academy to be placed first at the Sri Lanka Schools' Aquatic Sports Championship conducted at the Sugathadasa Stadium recently. Kavishani who is a student of Ambalangoda Dharmasoka College took first place in the U19 50m Butterfly event and also placed third at the U19 Girls 100m Freestyle event which was an incredible achievement.
Royal Turf Club to Hold Horse Auction
in Nuwara Eliya
Sixteen beautiful thoroughbreds are going to walk the ramp on August 6 in Nuwara Eliya following the usual Royal Turf Club race day program, in what is going to be Sri Lanka's first ever horse auction. This event will hopefully be graced by a Hollywood celebrity and will be dedicated to the Maharagama Cancer Hospital. Appropriately called the Cancer Hospital Charity Race Day with 5% of all horse sales going to the Maharagama Cancer Hospital.
"Solar Eclipse" – Filmed in Sri Lanka 
Co-Produced by Chandran Rutnam  
Coming in January 2017
Tariq Thowfeek – Communications Director Texas Democratic Party
Tariq Thowfeek's parents migrated to the United States from Sri Lanka in 1985.
He is married to Tareen and has a brother
Omar.  His parents are Marina and Mohamed Thowfeek. Tariq graduated from Baylor University in Waco, Texas, with a BA in International Studies. He is presently enjoying his new job with the Texas Democratic Party Convention, of which he is Communications Director.
Swimmer Mathew Abeysinghe 
First Sri Lankan to Qualify for Rio Olympics
Twenty-year-old Mathew Abeysinghe has become the first Sri Lankan to qualify for the 2016 Olympic Games. Abeysinghe clocked 50.53 seconds in the Men's 100m freestyle at the qualifying rounds currently underway in Hong Kong. The minimum qualifying time required is 50.70 seconds. He is currently the Sri Lankan record holder in the 50m freestyle, 100m freestyle, 200m freestyle, 400m freestyle, 50m backstroke, individual medley, 100m butterfly and other freestyle events. He is coached by his father Manoj. 
Sri Lanka Picks 23-Member Contingent 
for Rio Olympics
The team includes nine competitors – three athletes, two swimmers and one each from badminton, judo, weightlifting and rifle shooting – eight coaches and six officials including Minister of Sports Dayasiri Jayasekera.  The nine competitors are Anuradha Indrajith Cooray (marathon), Geethani Rajasekera (marathon), Sumedha Ranasinghe (javelin throw), Matthew Abeysinghe (swimming), Kimiko Raheem (swimming), Chamara Dharmaratne (judo), Mangala Samarakoon (shooting), Sudesh Peiris (weightlifting) and Niluka Karunaratne (badminton).
Asanga Abeyagoonasekera Invited for Region's Top Defence Conference 
'The Shangri-la Dialogue' in Singapore 
Asanga Abeyagoonasekera was invited by the International Institute for Strategic Studies (IISS) to attend the 15th Shangri-la Dialogue in Singapore. The IISS Asia Security Summit 'The Shangri-La Dialogue' (SLD) is a 'Track One' inter-governmental security forum held annually by an independent think tank, the IISS which is attended by defence ministers, permanent heads of ministries and military chiefs of Asia-Pacific states.  
Sachini Ayendra 
Star of Roy de Silva's Movie
Beautiful Sri Lankan film actress Sachini Ayendra was in Los Angeles recently filming Roy de Silva's "Tom Pachayo", starring Keith Ranga, Saranga Dissasekera and Ananda Niyerapola. This movie will be shown in Hollywood in the fall 2016.
Diesel & Motor Engineering PLC (DIMO), together with the engineering students from the Mechanical Engineering Department of University of Moratuwa unveiled the D-Mora P1, the race car built by the university students to participate in the world's biggest student motorsport competition "Formula Student 2016". Ranjith Pandithage – Chairman & Managing Director DIMO said, "This is indeed a proud moment not only for DIMO and the University of Moratuwa but for all Sri Lankans. We wish TeamSHARK for their exciting creation".
Iftar Dinner Hosted by Interfaith Council
Sri Lanka Day 2016 – Paseo Colorado
Pasadena, California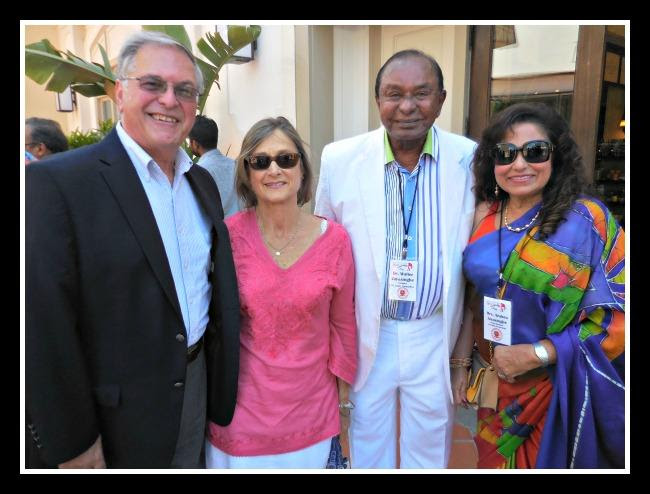 The 
Orange County Sheriff's Department
's Interfaith Advisory Council members were hosted for an Iftar dinner coinciding with the holy month of Ramadan by the Pacifica Institute of Orange County on June 29, 2016 in Irvine, Ca. Leaders of different faiths led the guests in prayer, remembering the victims of the recent tragedies around the world.
Faisal and Ilham Buharie of Los Angeles were among the guests.
Recipes From Roma's Kitchen