Happy Independence Day Sri Lanka
Sri Lanka Celebrates Independence
The 68th Independence Day celebration was held on February 4th at the Galle Face Green under the patronage of President Maithripala Sirisena, Prime Minister Ranil Wickremesinghe, ministers, parliamentarians and diplomats attended the ceremony which also included military parades. Here a group of students sing Jayamangala Gatha, while
the President stands at attention.
Sri Lanka Foundation's Independence Day Celebrations Attracts Large Crowd
The Sri Lanka Foundation's Independence Day Celebrations attracted over 1000 guests on February 6, 2016 at the Redondo Beach Performing Arts Center.  An extremely well organized event which included top class Sri Lankan cultural entertainment produced by the Sri Lanka Foundation Performing Arts. Among those in photo are the Venerable Dharmarama and Venerable Piyananda. Members of the Consular Corps were hosted by Sanjiv and Manil Gunasekera, Raja and Kamini Edirisuriya, Upul and Barbara Dharmadasa, Alex Perera, Rohan Sourjah and Para Amerasinghe. A full Dinner was served.
The National Anthem Was Sung 
in Sinhala and Tamil
His Excellency Persad Kariyawasam Speaks 
to Dr Sarath and Vajira Gunapala
(photos by moran moran)
The Beautiful Bridgeteen Dance
at Castaways, Burbank, Ca.
St Bridget's Convent Past Pupils Association Executive Committee Sheana Wijeyratne, Romani Abeysinghe, Nirmala Dawson, Jeanne Page Mather, Niloufer Pieris, Janaki Sarathchandra, Harshini Wickramaratne, Nedra Abeygunaratne, Sherine Gunasekera, Madushi Kurera, Methika Wickremesinghe, Shehara Gunasekera. Photos by Moran Moran
Sohan Pieris Wowed the Full House
The featured guest appearance was by famous Jetliner Sohan Pieris, who proved that he was better than ever belting out old favorites by Tom Jones and Englebert Humperdink. Sohan was the Star of the show. In Janaki Sarathchandra's words "He was amazing!"
Mano and Christine Ponniah, Kavan and Ruth Moonesinghe, Harshi Gunasekera, Sanka Marcelline, Shantha Sutharshana were among those who had a great time at the dance.
Lady Gaga Sings the U.S. National Anthem With Feeling at the Superbowl in Frisco
Jetwing is First Lankan Firm to Sign UNWTO
Global Code of Ethics for Tourism
Signing on behalf of Jetwing was Jetwing Chairman Hiran Cooray, in the presence of UNWTO Secretary General Taleb Rifai, and World Committee on Tourism Ethics (WCTE) Chairman Pascal Lamy. Hiran Cooray is also the first South Asian representative to be appointed as an alternate member to the WCTE, a position approved by the 20th UNWTO General Assembly in 2013.
Golfers Celebrate Mohan's Birthday
The 1st of the 9 series Annual challenge cup Golf tournament was held at Hansen Dam, on the 30th of January.
51 golfers participated with total prize money targeted at $5,650 for 2016.
Dr Munif Rahal and Tony Pathirana tied for first place in this tournament, accumulating points  towards the year end finals. The Golfers teed off the tournament celebrating the birthday of the Club President, Mohan Chandramohan.
SLAGC of Ca., has over 100 members and sponsor 13 days of golf tournaments in a year.
Executive committee is made up of, Chandramohan, Fred Artim, Roger Weerasinghe, Jonathan Mather, Chris Chitty, Tony Pathirana and Bobby Chandran.
Confiscated Blood Ivory Tusks 
Destroyed at Galle Face Green
African elephant tusks confiscated by Sri Lanka Customs in 2012 were destroyed by Wildlife and Sustainable Development Ministry officials at a ceremony held at  Galle Face Green recently. Sri Lanka is a signatory to the Convention on International Trade in Endangered Species of Wild Fauna and Flora. 
Sri Lankan elephants are a protected species.
Sri Lankan Minister Gamini Jayawickrema Perera, John E Scanlon, Secretary
General of the Convention on International Trade in Endangered Species of Wild Fauna and
Flora (CITES) and former Consul General and animal rights activist
Jeff Goonewardena were among those who worked
hard
to organise this event.
Iran Sanctions Lifted 
Ceylon Tea to Get boost
The end to economic sanctions on Iran by the US is seen as a positive move for Sri Lankan tea with prices likely to rise and create avenues to directly deal with banks between the two countries. The Sri Lankan tea industry had been awaiting this move by the US for a long time that could allow the two countries to carry out banking directly between them and reduce the delays in transferring payments for tea exports, said Tea Exporters Association Chairman Rohan Fernando. 
The "Heat" Sri Lanka's Number One Band to Play For the First Time in Los Angeles at  Royal College Dinner Dance
A Tribute To Mary Anne David
As Mary Anne David marks 47 years of teaching vocal music, her students- both past and present- are preparing for a tribute show to celebrate her immense contribution to the Sri Lankan talent pool. The show was on February 5 and 6 at the Lionel Wendt. Mary Anne's versatility as a teacher of vocal music is quite legendary. Her versatility in developing the vocal technique of students in various genres of singing- be it opera, lieder, jazz, Broadway, contemporary popular music and even oriental music has made her a sought after figure in the industry.
Sri Lankan Girl Inspired by Australian Doctors to Become a Cardiologist
There was definetely a sense of fear: new country, new friends, new school, but the Australian community, not even one day made me feel isolated. Twenty years ago Sujitha's grandfather, an important role model in her life, visited her and the family and he had three arteries

blocked. Australian doctors saved his life in an emergency by-pass surgery. Today Sujitha Thavanbalachandran is a cardiologist in Westmead hospital in Sydney, Australia.
Anuradha Roy wins DSC Prize 
at Galle Festival
Anuradha Roy has been announced as the winner of the prestigious DSC Prize for South Asian Literature 2016 for her novel, Sleeping on Jupiter at the Fairway Galle Literary Festival in Sri Lanka. In a glittering ceremony, the US $50,000 DSC Prize along with a unique trophy was awarded by Prime Minister Ranil Wickremesinghe to the winner.
Waters Edge in Rs 13 bn 
Mega Hotel Project
Waters Edge Private Ltd owned and operated by Urban Development Authority (UDA) will invest Rs. 13 billion to build a five star hotel and apartment complex. This is the biggest hotel project to be constructed in Sri Lanka with local funding this year. The hotel will have 186 rooms and 225 apartments and will be built at the Waters Edge venue in Battaramulla, said Waters Edge Chairman Chamath De Silva.
Roy Malleappah 
The Snake Man of Sri Lanka
Roy Malleappah of Arcadia, Ca. is the Executive Director of Anti Venom Research International (AVRI) He is a Herpetological Field Operations Specialist and recipient of Humanitarian Service Awards from the Commando Regiment, Sri Lanka Army, for equipping a physiotherapy gym to help amputees in Sri Lanka, supplying prosthetics, and gel socks, Construction Engineer/General Contractor and Wildlife Conservationist.
Visit Raju Rasiah for Valentines Day
and Rock Her World
World War II Veteran 
Captain C. K. Pathy Turns 100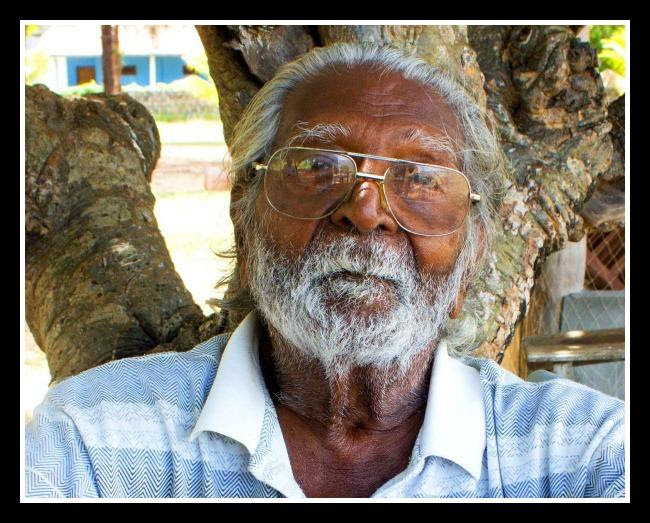 Captain Chelliah Kanagasabapathy from Uduvil, a village in northern Sri Lanka, served in the British Royal Air Force (RAF) during WWII. Recently he celebrated his 100th birthday at his own hotel in Trincomalee, Sri Lanka. Captain Pathy led an adventurous and celebratory life with many milestones, including being the first Sri Lankan Tamil to serve in the Royal Air Force (RAF).
Three Beautiful Ladies
Roshini Wirakoon, Niroma Kuruppu and Roshani Jayasekera had dinner recently at Santorini's Restaurant in Pasadena, Ca.
Sri Lanka to Begin Google Project 
Loon Balloon Trials This Month
Sri Lanka has signed a one-year deal with Google to start flight trials of Project Loon, a research and development project of the Internet giant aimed at providing broadband access to remote areas using high-altitude balloons. "Increasing Internet access will give a fillip to economic growth," Minister of Telecommunications and Digital Infrastructure Harin Fernando said. Equipment for the project has already arrived and Google expects to start trials later this month using Ratnalana airport for landing tests, he told a news conference. 
Kumari De Alwis Family 
Meets Vice President Biden
Kumari de Silva who works in the Embassy of Mauritius in Washington DC., visited the White House with her family recently and met with U.S. VP Joe Biden in the West Wing.
Upul's Travel Service
The Only Sri Lankan Consolidator Appointed by Qatar Airlines in the U.S.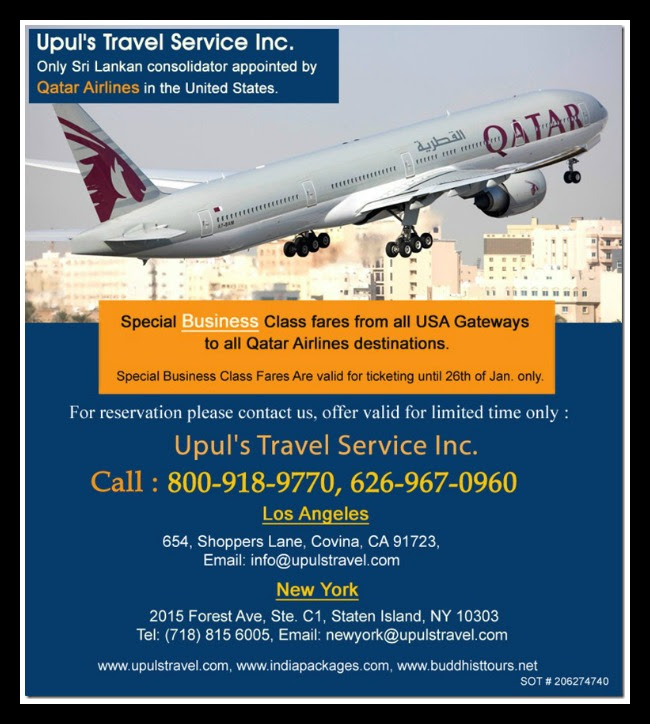 The "Mascots" AGM at the GOH
At the Annual General Meeting in the Grand Oriental Hotel in November 2015 were, Herman Gunaratne (Guest of Honour), Manoj Pathiraja (Secretary), Devaka Wickramasuriya (President), Manik Pereira (Chairman Pro-tem) and Hemannath Wickremesooriya (Treasurer). There were 96 Ex Planters of the Maskeliya / Upcot District and their wives present at the meeting.
SriLankan Airlines Launches Thrice Weekly Non-Stop Flights From Guangzhou to Colombo
SriLankan Airlines introduced thrice weekly non-stop flights from Guangzhou to Colombo from January 2016, on three of its four frequencies, becoming the first airline operating direct flights between Guangzhou and Colombo in the South China market. The flying hours of these non-stop frequencies are estimated to be 05 hours and 40 minutes whereas the previous operations via Bangkok took 7 hours and 30 minutes of flying hours.  
Sidath Kumar Meets 
President of Rotary International
At the  Sierra Made Rotary Club, former Commercial Attache to the Sri Lankan Consulate in Los Angeles, Sidath Kumar and his wife Aruna attended the Rotary International meeting held at Double Tree Hotel, Ontario recently.  Here they are with Rotary International President Ravi Ravindran and his wife Vasanthy. 
Danny Abrahams, where are you?
Filmed on location in Kuala Lumpur in 1960 starring American actor William Holden. Seen holding down a python are Sri Lankans David Weinman and Danny Abrahams who workied at the National Zoo in Malaysia. 
William Holden starred in the movie The Bridge on the River Kwai which was shot in Sri Lanka in 1956. Danny Abrahams went to Malaysia with Major Aubrey Weinman in 1960 to plan and build a zoo for the city of Kuala Lumpur. Danny Abrahams went missing soon afterwards and his family is looking for him. Please send any information  or news as to what happened to him to Jayam2424@yahoo.com. Thank You.
Lakshman Ratnapala's New Book
FLICKERING FORTUNES, by LAKSHMAN  RATNAPALA was launched on January 28th 2016 in the Jubilee Room of the Galle Face Hotel, Colombo under the patronage of Minister Sarath Amunugama. At the launch, a video by Travelmedia introduced the author. Minister Amunugama delivered the keynote address, followed by a presentation by Rev Marc Billimoria, Warden, S.Thomas' College, Mount Lavinia. A wine reception followed. The event was attended by literary and social glitterati, travel industry leaders and media.
Gwen Amerasinghe Turns 95  
Photo in Colombo Circa 1958
Yolanda Bolling Morley, Noeline Bolling Ratnanather, Deborah Ratnanather Nedrlk, Olga Bolling Mellican, Ramona Mellican Carr, Aileen Bolling Tambinayagam, Gwendolyn Bolling Amerasinghe. Gwen is the eldest daughter of Peter and Edith Bolling, the prominent planter family from the Kandy/Matale area. Peter Bolling is the brother of Edward Bolling father of Patsy Bolling Rutnam wife of the late Rajah Rutnam. Gwen's husband Lucien Amerasinghe was head master of St Thomas' College, Gurutalawa.  Her children are Pete, Christine Jayawardene and Ralph. Many of her family from all over the world will be helping her celebrate her birthday in Colombo later this year.
Canberra's Young Finalist of the Year 2016
Nipuni Wijewickrema
Nipuni Wijewickrema runs a floristry business designed to create employment opportunities for people with special needs. Nip, first established GG's Florist to ensure her 16 year old younger sister Gayana would have fulfilling work after graduating from high school. Gayana, who has was born with Down syndrome, is now famous around Canberra for her floral deliveries that always come with a big hug. Nip is also a volunteer counsellor with Lifeline and contributes regularly to community initiatives. Nip has developed a socially sustainable business model which is changing the way Canberrans think about inclusion.
This is the Transportation of the Fu