Good News From Jayam
April 1, 2015           Please Scroll Down
President Maithripala Sirisena 
Meets the Queen of England
President Maithripala Sirisena, and his wife Jayanthi greet the Head of the Commonwealth, Queen Elizabeth, during the Commonwealth Day reception hosted by Secretary-General Kamalesh Sharma at the Commonwealth Secretariat at Marlborough House on 9 March 2015 in London, England. Prince Philip is looking good!
Prime Minister of India Visits Sri Lanka
 President Maithripala Sirisena yesterday said that Indian Prime Minister Narendra Modi's visit to Sri Lanka and his own recent trip to India had turned a new page in cooperation between the two countries. Addressing the media after bilateral discussions with the Indian delegation led by Prime Minister Modi at the Presidential Secretariat in Colombo recently.
Prayers For Fay Herft
We wish to thank all the wonderful people worldwide, who prayed for a fast and complete recovery of Fay Herft of Palos Verdes, Ca.  Fay is now recuperating at her home, taken care of by her husband Terry and their family.  While the operation was successful, it takes a long time to completely recover, which has not been easy on Fay. We need your continued prayers for a fast and easy recovery. 
 World Famous "Gypsies" from Sri Lanka Arrive for Concert and Dinner Dance in Los Angeles, Next Week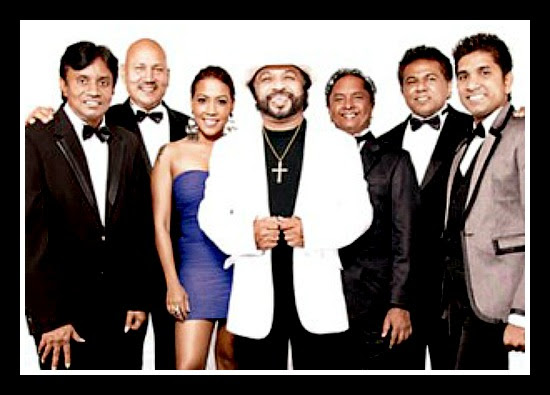 The Vega – Sri Lankan Ingenuity
Made in USA? Made in Germany? Made in U.K.?  Guess again this beauty is made in little old Sri Lanka! Yet the team behind the stunning Vega sports car has credentials – and financial backing – befitting similar passion projects emerging in California's Silicon Valley. The effort is the brainchild of technology entrepreneur Harsha Subasinghe, chief executive of Colombo-based CodeGen, a developer of software for the travel and tourism industry.
Joe-Pete Joint Past Cricketers' Dinner
 Raja and Lizzie de Silva, Claude and Van Perera
Ken and Margo Sellayah
Hiran and Dharshi Cooray
The Joe-Pete annual joint past cricketers' dinner and fellowship organised by the Past Cricketers Association of St. Joseph's College and the Cricket Foundation of St. Peter's College was held at Waters Edge recently 
First Time in the History of Sri Lankan Shows – A US$5000 Cash Giveaway!
SriLankan Airlines 
Bags Silver at HRM Awards
 Rukmani Manohar – Performance Admin Mgr, Lasantha Liyanage – HR Management Systems & Payroll Admin Mgr, Nilanthi Mendis – Flight Crew Resourcing Mgr, Anne Seneviratne – Talent Resourcing Mgr, Udani Dharmadasa – Compensation and Rewards Mgr, Buddhika Manage – Senior Mgr HR Development & Business Partnering, Dr.Anomi Jayasinghe – Group MO, Pradeepa Kekulawala – Head of HR, Chamara Perera – Head of IT, Dulari Dahanayake, HR Mgr (Planning & Analytics), Ajith Biyanwila – Industrial Relations & Welfare Mgr, Deepa Jayamaha – HR Executive, Ravi Heiyantuduwa – Sr Training & Development Exec. SriLankan Airlines once again demonstrated its high level of professionalism in human resource management and development when it won a Silver Award in the Open/private sector category at the HRM Awards 2014, held at the Cinnamon Grand recently.
The High Que Steak House  
A Restaurant on Guildford Crescent!
A place for coffee, steak and room to breathe can sometimes be impossible to find. Walk down Guildford Crescent and you will be able to find this cosy steak house which has been in operation since the latter part of 2014. Last week the two of us went to meet the people behind this operation, Kanishka and Samadhi. 
"JD" and Rajiv on Leader Board, at the 
3rd SLAGC Challenge Cup Tournament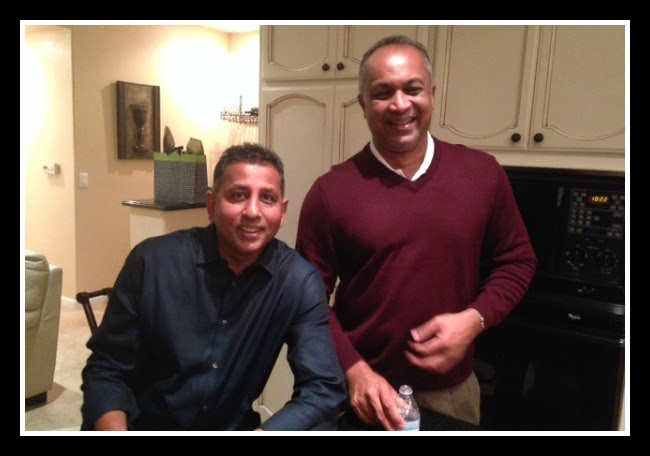 The 3rd of 8, SLAGC of Ca "Challenge cup" golf tournament was held at the Empire Lakes Golf course, Rancho Cucamonga, Ca on Sunday, March 1st, 2015. 42 Golfers participated.
This tournament was played, partners best ball, the winning pair earned points towards the SLAGC Challenge cup. JD Jitendran (left in photo) and Rajiv Thanaratnam as partners, earned 135 points each, as they were placed 4th at this tournament.
The SLAGC "Challenge cup" standings as of March are as follows: 1st Place Denham Emersely with 600 points; 2nd place Lalith Perera, Barry Bluenkant and Kevin Khal with 500 points each; 3rd place 
Dr Prithiraj and James Garner, 4th place Shoaib Amir; 5th place Tyson Schafer and Fred Artim; 6th place Dr Roy Del Rosario; 7th place David Martil and Harold Perera ; 8th place Abdul Latiff ; JD Jitendran 9th place with 200 points and the 10th Rajiv Thanaratnam with 135 points. The total prize money of $ 5,000, will be paid out to the 10 golfers with the highest points earned during the year.
The next tournament will be on June 7th, 2015, at Sterling Hills Golf course, Camarillo, California.
Tourism to "Celebrate Colombo" 
With  Segue Scooter Rides
Hayleys Group's 'Puritas Sath Diyawara' Provides Purified Drinking Water
Three Reverse Osmosis (RO) plants sponsored by Hayleys Group of companies,  were launched recently in Pihimbiyagollewa, Kiriketuwewa & Balayawewa in the North Central Province. Chief Guest, Mohan Pandithage – Chairman & Chief Executive of Hayleys stated "Hayleys was among the first global corporate entities and the only Sri Lankan company to endorse the CEO Water Mandate of the United Nations Global Compact (UNGC), a call to action and a strategic framework to make sustainable water resources management a priority for businesses world-wide."
Coriander Tea Enters Market
For the first time in the world, a Sri Lankan company, CLP International (Pvt) Ltd (CLP) has formulated Coriander Tea targeting the global market.
CLP's Chairman and Managing Director Chathura Laknath said they have already secured an order from the leading British supermarket chain, TESCO to market this tea from next month.
Anjani Makes the Cover 
of the "Weekend Leader"
 Anjani An Actress On A Mission
Born and raised in the United States, Anjani Perera shot into the spotlight after acting in the movie Sri Siddhartha Gauthama, which broke box office records in Sri Lanka in 2013. Anjani played the role of Queen Prajapathi Gothami in the movie produced by Navin Gooneratne, Jeff Goonewardena and Kanthi Perera. In December 2013 the movie won the award for best film in the "World Cinema" category at the Delhi International Film Festival.
Beautiful Chawick Lagoon 
Hotel in Negombo
 Please Click on link below
Hollywood Fashion Designer Kokila
 Sri Lankan American Fashion Designer is going places, with fashion shows in Hollywood, Beverly Hills and Las Vegas.  Here he is in a photo with his model Alexa in one of his creations.  He expects to participate in the MAGIC show in Las Vegas. Kokila was born in Sri Lanka.  He worked as Group Fashion Designer at the Velona Group.  Kokila studied at the Los Angeles Trade Technical College, Santa Monica College and Moratuwa University in Sri Lanka in which he was in the Dean's Honor Roll. His motto is – 
"Fashion isn't a law— fashion is freedom to explore."
Josephians (All Inclusive) Dance 2015
The Fabulous De Luxe in Burbank
Friday 17th July at 7 p.m.
 $100 All Inclusive – Special Dinner – Premium Cocktails – Fantastic Music 
Floor Shows – Dancing – Prizes Galore – Leave Your Wallet at Home!  
Limited Seating –  Want a Good Table?  Book it Early !
Call Jayam, Therese, Sanka or Kingsley
Celebrated Novelist Michael Ondaatje to be Awarded at BBC   

The University's creative writing program, in accordance with the Writers on the Bay reading series, will be honoring published writer, Michael Ondaatje, with the 2015 Lawrence A. Sanders Award.

The program presents the award to one author each spring and, this year, Ondaatje, novelist and poet, will be its sixth recipient.
Sir Arthur C. Clarke 
A True Sri Lankan
Sir Arthur C. Clarke, immigrant to Sri Lanka, had an Oscar nomination for 2001 Space Odyssey, countless literary awards, and a knighthood from the Queen-with which the great science fiction writer surrounded himself day in, day out, for the almost 50 years he lived and worked in Sri Lanka. He 
died
 almost exactly seven years ago, on March 19, 2008, aged 90, but here, in his old office in Gregory's Road, everything has been preserved just the way it was when he lived.
Edirisinghe Builds Villas in Pussellawa
Edirisinghe Building Constructions (Pvt) Ltd, has embarked on two mega housing properties in Kandy and Pussellawa mainly targeting foreigners, Lankan expatriates and the up market clientele.

British Navy Man Leonard Birchall 
Saved Colombo From the Japs in 1942
Air Commodore Leonard Joseph Birchall, Member of the Order of Canada, Member of the Order of Ontario, Officer of the Most Excellent Order of the British Empire, Distinguished Flying Cross, Canadian Forces Decoration, Officer of the United States Legion of Merit, passed away in September 2004 at the age of 89. His passing was reported in most Canadian newspapers, and all of them noted that he had been nicknamed 'the Saviour of Ceylon' for having spotted a Japanese fleet approaching Ceylon (now Sri Lanka) on 4 April 1942 while on patrol in a 413 (RCAF) Squadron Consolidated Catalina flying boat. 
Dambulugala – A Beautiful Song
DAMBULUGALE – P.L.A. Somapala and Chitra Somapala
Watch Your Favorite 
Sri Lankan Shows In Your Home
Cricket Gala Nite in Melbourne
 Sri Lankan cricketer Mahela Jayawardena with fans at the Gala Nite For the Sri Lankan cricket team in Melbourne, Australia.
Indira Stores in Kegalle 
has the Best Bananas !
Jayam's Choice
Lanka Lanka – Sunil Shantha
 If you want a tent or space to have a stall 
Please call Dushantha at 909-974-9199  
AGM of SLAASC will be in the a.m. 
Dress up for the Avurudu Kumari/Kumaraya Competition-Children Welcome!
Sad News – Obituaries
CANEKERATNE – RANJAN MARK – Passed away in Colombo on March 9, 2015. Husband of Shireen, father of Romesh, the late Dinesh and Krishan, father-in-law of Pamela and Tushara. brother of the late Joyce, the late Nihal and the late Lalani. Son of Justice A.R.H. and Nellie Cakeratne. Brother-in-law of Pratapkumar de Silva. Ranjan was one of the finest auto racing champions in Sri Lanka. Chairman of Virtusa (Pvt)Ltd., Chairman of Alliance Agencies, Director of Alliance Finance and former Chairman of Rowlands Group of Companies. Past President of Rotary Club of Colombo West.
WIJESINGHE, MALINI (nee Basnayake), passed away on March 11, 2015. Wife of Late Frank, mother of Prasantha and Sriyan Wijesinghe. Mother in law of Chumi and Devika. Grandmother of Chamitha, Johan, Shehan and Dilan. Sister of Arthur, Kamala, Mahinda, Prema and Rohan Basnayake and of Late Valentine, Sita and sister-in-law of Late Rani Halpe. Service in Colombo was at St. Johns Anglican Church. A Memorial Service will be held at All Saints Church, 132 N. Euclid Avenue In Pasadena, Ca. on April 11, 2015 at 11 a.m.
Recipes from Roma
Add this to your Aluth Avurudu Table
Ingredients.
2 cups slightly roasted and seived Rice Flour
1 cup Coconut treacle (Kitul Pani)
2 lbs.grated (scraped) Coconut
1/2 cup Sultanas (seedless and rough chopped)
                      OR
1/2 cup Golden Raisins
1 cup roughly chopped Cadjunuts
1/4 cup finely chopped candied Ginger
1 teaspoon orange zest (ONLY the zest,not the white )
Method.
1.Butter and flour a 9'x11′ cake pan and set aside.
2.Boil the syrup in a pot, keep stirring till it boils. Add
   the scraped coconut (which you can pound after scraping)
   and stir for a few minutes. Remove from fire and allow to cool.
   When cool add the flour, sultanas, orange zest, ginger and half
   the cadjunuts. Mix this well. Pour into the prepared cake pan.
3.Sprinkle remaining Cadjunuts on top.
4.Bake in a preheated moderate 350 degree oven for 1/2 hour.
   Test center for doneness with a skewer. Let it cool, cut pieces
   and enjoy!
A very Happy New Year to all of you.
Please email me with any questions or requests
Fruits of Sri Lanka – Rambuttans
The Fabulous Porsche Panamera 
Only For Drivers With Good Taste !