Sri Lanka Welcomes Pope Francis

Pope In Sri Lanka – Welcome Ceremony 2015-01-13 #popeinsl –www.hirutv.lk

Palitha Pelpola Appointed

President's Private Secretary

President Maithripala Sirisena has appointed Palitha Pelpola as his Private Secretary. Pelpola had served as the Director of the Mahaweli Center and had also served as the Secretary to late Gamini Dissanayake, when he was the Opposition Leader. Palitha was the President of the Sri Lanka America Association of Southern California (SLAASC) in the year 2000.

 
Sri Lanka's New Cabinet of Ministers
Sri Lankan Competes for 
Miss Universe Title in Florida
Watch the contest live on NBC 
Sunday January 25th at 8/7c on NBC
Avanti Marianne Page of Colombo Sri Lanka is at the Doral Trump Hotel in Miami, Florida preparing to compete for the Miss Universe title. 
Avanti is the daughter of Chandi and Marie Page of Colombo. 
Let's all watch the show live on NBC at 8 p.m. Sunday and give a big 
cheer for Avanti.
________________________________________________
Main Independence Day Celebrations 
to be Held at Parliament Grounds
  Arrangements are in place to hold this year's Independence Day ceremony on February 4 at the Parliament Grounds in Sri Jayawardenepura Kotte under the patronage of President Maithripala Sirisena, Home Affairs Ministry sources said. Home Affairs Minister Joseph Michael Perera said the main ceremony of the 67th Independence Day scheduled to be held at Weeraketiya in the Hambantota district has been shifted to Parliament Grounds. Prime Minister Ranil Wickremesinghe, ministers, state ministers, deputy ministers, Commanders of all Tri- Forces, the Inspector General of Police, senior officers attached to the Armed Forces and Police and Diplomatic Corps will be in attendance at the Independence Day celebrations.
Thai Pongal, the Festival of Farmers
Traditionally, Thai Pongal is the festival of farmers who depend on Mother Earth, the sun, rain, other natural elements and cows and buffaloes for a bountiful harvest of their staple food, rice. In Sri Lanka, the festival is celebrated by Hindhus, in the North, the East, the Central Hill Country and other areas, where Hindus live.
Sri Lankan Film Maker – Chandran
For an inspirational story – click on arrow
Another Luxury Ship 
at Hambantota Port
The luxury ship arrived at the Hambantota seaport last week. The ship known as Amadea has facilities to provide accommodation to 1,500 passengers, Hambantota Seaport Deputy General Manager Norman Weeraratna said. He said passengers visited places of historical, archaeological and tourism value in the Hambantota district.
_______________________________________
Sri Lanka Foundation  
Now Enrolling Students
_______________________________________
TOP SLOT AT GLOBAL 
COMMERCE QUIZ
SriLankan Airlines' Quiz Team defeated a number of public sector institutions, including the team from the Central Bank of Sri Lanka, on its way to clinching first place in the 'Public Sector Institutions' category at the recent Governor's Challenge Trophy 2014 – Global Commerce Quiz, held at Galadari Hotel, Colombo. The competition brought together 33 teams from various industries.
_________________________________________
Ceylon Swimming Team Champion Visits Los Angeles
Michael de Zylwa, Ceylon Swimming Team Champion (now living in Brisbane), visited Los Angeles recently, with his business friend Ray (pronounced Rye in New Zealand).  He was met by fellow team mate Randy (Dennis) Grey of San Diego and his wife Maria.  Michael's brother in law Samuel is on the far left and Michael is second from left.  They had a great time reminiscing at the Chandara Thai Restaurant in Hollywood.
_____________________________________
Ceylon Swimming Team Champion 
Michael de Zylwa
_________________________
The Biggest Collection of Sri Lankan 
Film Stars on One Stage in California
The following Sri Lankan Film Stars will be performing Malani Fonseka, Ravindra Randeniya, Sriyani Amarasena, Jackson Anthony, Veena Jayakody, Sriyantha Mendis, Sangeetha Weerarathne,  Cletus Mendis, Kusum Renu, Saranga Dissasekara, Roshan Ranawana, Upeksha Swarnamali with Channa Wijewardana and his troupe.
_____________________________________________
Ridee Rayak Saha Ape Rayak
Saturday February 14, 2015
__________________________________
NYE Retro Fusion at the Kingsbury
 Seen at the Grand Party held at the Kinsgbury on New Years Eve were Manel Wickremasinghe and Rohini Pandithage.
___________________________________________
First Lankan Fellow at Chartered Institute of Bankers in Scotland 
Senior banker Sudam Chandima Kaluarachchi was conferred the Fellowship of the Chartered Institute of Bankers in Scotland at the Convocation held on November 15 2014 in Glasgow, Scotland. He became the Institute's first Fellow ever to be elected from Sri Lanka. He completed his GCE (Advanced Level) Examination successfully at Ananda College, Colombo.
Commemorative Coin to Mark 
Pope Francis' visit
The Central Bank of Sri Lanka issued a commemorative silver coin with a face value of Rs.500 to mark the visit of His Holiness Pope Francis to Sri Lanka in recognition of the national importance of this event. 
_____________________________________________
Sanjiv and Manil With Family 
at Loon Tao New Years Eve
Sanjiv and Manil Gunasekara of Los Angeles enjoyed New Years Eve with family at the Loon Tao in Mount Lavinia.
_____________________________________________
Gypsies Live – Dinner Dance
____________________________________________
Arjuna Mahendran 
New Central Bank Governor
Arjuna Mahendran was appointed by President Maithripala Sirisena as the new Governor of the Central Bank of Sri Lanka.He has nearly 30 years of extensive experience in the financial services industry across Asia, serving in both private companies and public sector organizations, and holds a Master of Arts in Philosophy, Politics, and Economics from the University of Oxford.  He is presently serving as the Chief Investment Officer at Dubai-based Emirates NBD's wealth management arm. 
__________________________________________
Capturing the Aussie Tea Market
The Sri Lankan Government is expected to embark on a multi-million global campaign to promote Ceylon tea in key markets in the world including Australia. The details of the campaign is still unknown but country branding appears to be the major thrust of these campaigns taking advantage of the brand equity associated with Ceylon tea. Inevitably, such a strategy would require a careful assessment of the core brand values that could be communicated in a proposed campaign as well as how country association can be transferred across products that are marketed in a country. 
____________________________________________
'Kala Pola' Opened on January 25  
at Nelum Pokuna Mawatha
Sri Lanka's annual open-air art fair opened January 25, 2015 along Nelum Pokuna Mawatha, Colombo 7. Free of charge and open to the public, it opens at 8.00 am and continue until 9.00 pm the same night. 
The official ceremony was at 5.00 pm at which the Chief Guest was His Excellency Y. K. Sinha, High Commissioner of India to Sri Lanka. Presented by The George Keyt Foundation and the John Keells Group over the past 22 years, Kala Pola has grown into a much-awaited cultural event and is today a not-to-be-missed event in Colombo's annual cultural calendar.
Piyal Mataraarachchi  

President Ranaviru Foundation
Piyal Mataraarachchi with wife Janitha and children in front of their home in Los Angeles. Piyal was the President of SLAASC in 1998.
"The Farcry" in Wasgamuwa
A beautiful secluded hotel in the jungles of Wasgamuwa offers modern day luxury and first class service. You can go on a photo, jeep safari to see elephants, leopards, deer and peacocks and come back to the comfort of a 
clean, comfortable hotel.
______________________________________________________
THE LURE OF DUTY-FREE
Behman (Tito) Pestonjee is unequivocal about his faith in the future prospects for the retail sector, stressing that "the potential is huge!" A Director of the diversified Abans Group, Pestonjee notes that "thus far, Sri Lanka has merely been projected as a leisure destination, and not a shopping destination. However, considering the expected boom in tourist arrivals, the retail sector could easily capture business from rising inbound tourists."
_______________________________________
GOLD CIRCLE AWARD 2014 
Agoda.com, a leading hotel booking site in Asia, awarded The Kingsbury hotel the prestigious 2014 Gold Circle Award. Launched in 2009, the Agoda Gold Circle Awards honour industry-leading hotels that exhibit outstanding performance and meet or exceed the criteria of the online booking market, including positive customer reviews, quality content on the hotel profile, proficient use of Agoda's Yield Control System (YCS) and commitment to delivering the best service to customers. Maurice Cook, General Manager of The Kingsbury, opined that "Agoda is an excellent means of promoting the hotel, as it's visible to the world at large and… it's also highly credible." 
____________________________________
Visit of Vatican Delegation 
to Taj Samudra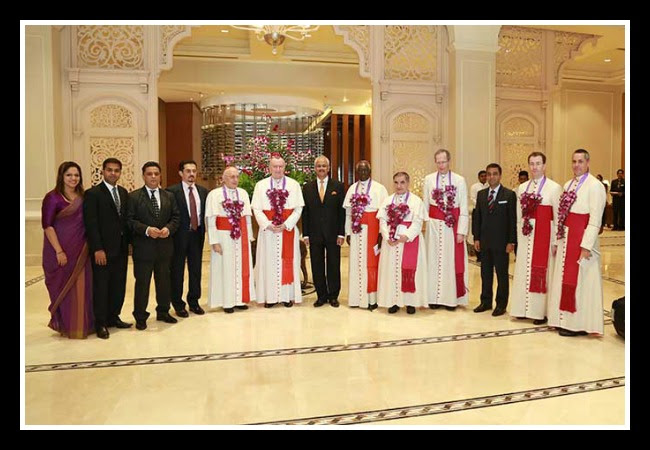 Taj Samudra, Colombo welcomed the Vatican delegation on 13 January, on account of the visit of His Holiness Pope Francis to Sri Lanka. Area Director and General Manager of Taj Samudra Rohit Khosla warmly welcomed His Eminence Pietro Parolin – Cardinal Secretary of State and the delegation at the Lobby. As part of the special welcoming ceremony, the Vatican delegation was greeted with fresh orchid garlands and with traditional Sri Lankan Kandyan dancers in attendance.
____________________________________________
Recipes From Roma's Kitchen
Menu for Valentine's Day Dinner (Continued)
1.Borscht Soup (Recipe published in last issue of GOOD NEWS)
2.Crab wraps(recipe below)
3. Chicken Roulade with Fennel and Orange salad.
4.Mango Mousse
Nos.3 and 4 to follow in issues before February 14th
Ingredients
1 lb.Jumbo Lump Crab meat
1 stalk Celery (Cubed  into very small pieces)
4 teaspoons chopped Chives
1 teaspoon chopped Tarragon
1/3 cup Mayonnaise
3 Tablespoons Sour Cream
1 Teaspoon fresh squeezed Lemon Juice
1 Teaspoon Dijon Mustard
Kosher salt and freshly ground pepper to taste
Method
Mix chopped celery,tarragon,Mayonnaise,sour cream
lemon juice mustard, salt and pepper in bowl till evenly
blended.Fold in Lump Crab very gently. Try not to break
pieces and retain it's size.
1.This can be divided and spooned into the middle of four
Boston or Bib Lettuce,sprinkle chopped chives on top tp
garnsh.
2.You may also wrap these with egg roll wrappers and
   serve with a honey mustard, tamarind or chilli sauce.
3.You can halve two Avocados, fill them into the shells,
    top with a few thin slices (toss in lime juice to avoid
   discoloring).
4.,You can also fill them into pre-baked puff pastry shells.
Use your imagination.You are the best judge of what will
please your Valentine. Have fun!
Should you have any questions email me
Obituaries – Sad News
SOMASUNDERAM – SELVARANEE – Beloved wife of late Navaratnarajah Somasunderam (Retired Customs Officer / formerly of Ceylon Theatres Ltd., and owner of Tajmahal Theatre, Matale). Loving mother of Manjula, Shyamala, Vathsala and Niranjala, mother-in-law of Vipulananda, Chandrasekeran and Lalith Satkunam, loving grandmother of Natasha, Jerome and Pritika, peacefully passed away on January 19th 2015.
JANSZE – DR. MALCOLM. Son of the late Vernon and Neliya, brother of the late Cecil, brother-in-law of Noreen and Uncle of Darren (both of Sydney, Australia), passed away in Colombo on January 15.
______________________________________________
Independence Day in Ceylon 1948
______________________________________
Independence Day Celebrations
____________________________________